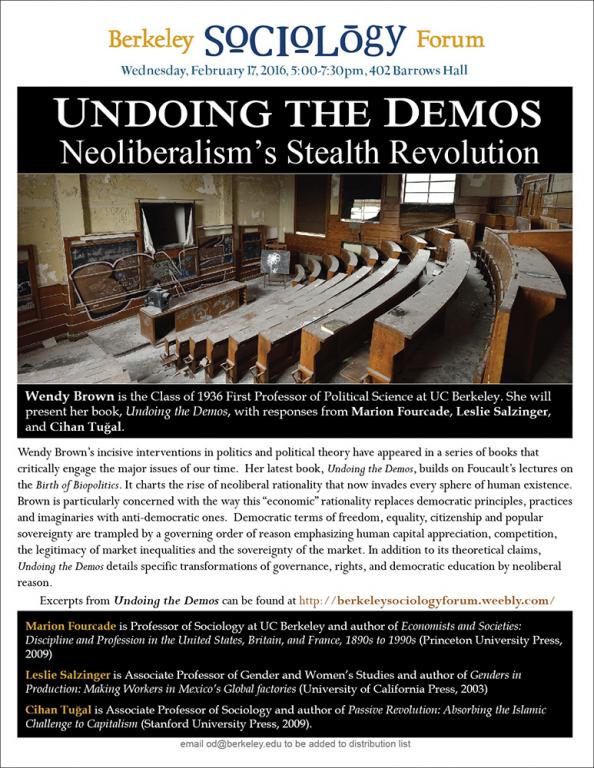 February 17, 5:00-7:30pm in 402 Barrows Hall
BERKELEY SOCIOLOGY FORUM
Wednesday, February 17, 5-7.30p.m., 402 Barrows Hall
UNDOING THE DEMOS: NEOLIBERALISM'S STEALTH REVOLUTION
Wendy Brownis the Class of 1936 First Professor of Political Science at UC Berkeley. She will present her book, Undoing the Demos, with responses from Marion Fourcade, Leslie Salzinger and Cihan Tuğal.
Wendy Brown's incisive interventions in politics and political theory have appeared in a series of books that critically engage the major issues of our time.  Her latest book, Undoing the Demos, builds on Foucault's lectures on the Birth of Biopolitics. It charts the rise of neoliberal rationality that now invades every sphere of human existence. Brown is particularly concerned with the way this "economic" rationality replaces democratic principles, practices and imaginaries with anti-democratic ones.  Democratic terms of freedom, equality, citizenship and popular sovereignty are trampled by a governing order of reason emphasizing human capital appreciation, competition, the legitimacy of market inequalities and the sovereignty of the market.  In addition to its theoretical claims, Undoing the Demos details specific transformations of governance, rights, and democratic education by neoliberal reason.
Excerpts from Undoing the Demos can be found at http://berkeleysociologyforum.weebly.com/
Marion Fourcadeis Professor of Sociology at UC Berkeley and author of Economists and Societies: Discipline and Profession in the United States, Britain, and France, 1890s to 1990s (Princeton university Press, 2009)
Leslie Salzinger is Associate Professor of Gender and Women's Studies and author of Genders in Production: Making Workers in Mexico's Global factories (University of California Press, 2003)
Cihan Tuğal is Associate Professor of Sociology and author of Passive Revolution: Absorbing the Islamic Challenge to Capitalism (Stanford University Press, 2009).