Sandra Susan Smith
Professor and Department Chair
Research Interests
Urban poverty and joblessness, job search, social capital and social networks, trust and cooperation, and more recently, re-entry and the front end of criminal case processing
I am primarily a qualitative researcher with a longstanding interest in questions of urban poverty and joblessness, social capital and social networks, racial inequality, intraracial dynamics, and trust. In my first book, Lone Pursuit: Distrust and Defensive Individualism among the Black Poor (Russell Sage Foundation), I advanced current and enduring debates about black joblessness, highlighting the role of interpersonal distrust dynamics between low-income black jobholders and their jobseeking relations that make cooperation during the process of finding work a problematic affair. It is in my second book, Want, Need, Fit: Cultural Logics of Job-Matching Assistance, currently under review, I more fully engage questions about the cultural underpinnings of social capital mobilization during the job-matching process, adding to my theoretical and empirical contributions from earlier work. I draw from a ethnoracial and class diverse sample of jobholders at one large public sector employer to investigate the network mechanisms that generate differential access to jobs. I show that variations in referrers' patterns of job-matching assistance can at least in part be attributed to distinct cultural logics of job-matching assistance, which inform the rules of engagement that shape whether, why, how and to whom potential referrers allocate economic resources. My research on this and related topics has also been published in a number of articles in such journals as the American Journal of Sociology, The Annals of the American Academy of Political and Social Sciences, the Annual Review of Sociology, The DuBois Review, Racial and Ethnic Studies, Social Science Research, The Sociological Quarterly, and Work and Occupations.
Recently my interests have expanded to include criminal justice issues, with special attention to the front-end of criminal case processing, a direct result of my membership in the Executive Session on Community Corrections at Harvard's Kennedy School and my membership on the National Research Advisory Board on Misdemeanor Justice. Specifically I have been considering the extent to which and how institutional arrangements related to the front end of penal contact contribute to the reproduction of racial and class inequalities. With a generous grant from the Laura and John Arnold Foundation, I have begun a large, four-city qualitative study of the front end of criminal case processing, with a focus on how pretrial detention and diversion effect justice-involved individuals' future involvement with crime. Defendants who initially appear to be quite similar can have very different criminal justice outcomes, in the short- and long-term. While some go on to engage in new criminal activity and, as a result, cycle in and out of jails and prisons, others abstain from participation in new criminal acts and thus limit further involvement with the penal system. A growing body of research links differing outcomes to experiences related to, among other things, diversion programs and varying lengths of pretrial detention; the former increases the odds of desistance, while the latter increases the odds of recidivism, even among low-risk offenders. To date, however, we know relatively little about how and why these interventions matter for future criminal involvement. The aim of my three-year project is to better understand how justice-involved individuals' lives are altered in the short- and long-term by these criminal justice interventions, highlighting similarities and differences, across the four contexts (Louisville, Chicago, Houston and San Francisco), in the extent and nature of pretrial diversion and detention procedures and defendants' experiences.
In the recent past I have also been deeply engaged service to the discipline, as ASA Council member, Deputy Editor of the American Sociological Review and chair of the ASA Section, Inequality, Poverty, and Mobility, among other commitments.
Representative Publications
Books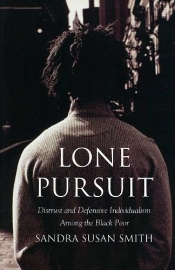 Lone Pursuit: Distrust and Defensive Individualism among the Black Poor. New York: Russell Sage Foundation, 2007.
Selected Articles and Chapters
"'Change' Frames and the Mobilization of Social Capital for Formerly Incarcerated Job Seekers." DuBois Review (conditionally accepted), forthcoming fall 2018.
"Unpacking Pretrial Detention: An Examination of Patterns and Predictors of Readmissions" (with Jaeok Kim, Preeti Chauhan, Olive Lu, and Meredith Patten), Criminal Justice Policy Review, forthcoming May, 2018.
Shackled to Debt: Criminal Justice Financial Obligations and the Barriers to Re-Entry They Create. New Thinking in Community Corrections Bulletin(with Karin D. Martin and Wendy Still), Washington, D.C.: U.S. Department of Justice, National Institute of Justice, 2017. NCJ 249976, 2017.
"Want, Need, Fit: Logics of Assistance and the Job-Matching Process," (with Kara A. Young), Work and Occupations. 44(2): 171-209, 2016.
"Exploring the Challenges Former Prisoners Face Finding Work," 2016. Chapter 10 in Boys and Men in African American Families, edited by Linda M. Burton, Dorian Burton, Susan M. McHale, Valerie King, and Jennifer Van Hook, 2016.
"Job-Finding among the Poor: Do Social Ties Matter?" Oxford Handbook of Poverty and Society, edited by Linda M. Burton and David Brady. New York: Oxford University Press, 2015.
"Traumatic Loss in Low-Income Communities of Color," Focus 31(1): 32-4, 2014.
"Intraracial Harassment on Campus: Explaining Within and Between-Group Differences?" (with Jennifer Jones), Ethnic and Racial Studies, First published on: 18 January 2011 (iFirst).
"Race and Trust." Annual Review of Sociology 36: 453-75, 2010.
"A Test of Sincerity: How Black and Latino Service Workers Make Decisions about Making Referrals." The Annals of the American Academy of Political and Social Sciences  629: 30-52, 2010.
"'Don't put my name on it': (Dis)Trust and Job-Finding Assistance among the Black Urban Poor." American Journal of Sociology 111(1):1-57, 2005. Lead Article.
  Spotlighted in Contexts: Understanding People in Their Social Worlds, Volume 5, No. 2.
"Intraracial Diversity and Relations among African Americans: Feelings of Closeness among Black Students at a Predominantly White University." (with Mignon Moore) American Journal of Sociology 106(1):1-39, 2000. Lead Article.
"Mobilizing Social Resources: Race, Ethnic, and Gender Differences in Social Capital and Persisting Wage Inequalities." The Sociological Quarterly 41(4):509-537, 2000. Lead Article.  
Reprinted in the college text, Prejudice and Discrimination in America: A Book of Readings, 2001, edited by Juan Gonzales.  Dubuque, Iowa: Kendall/Hunt Publishing Company.