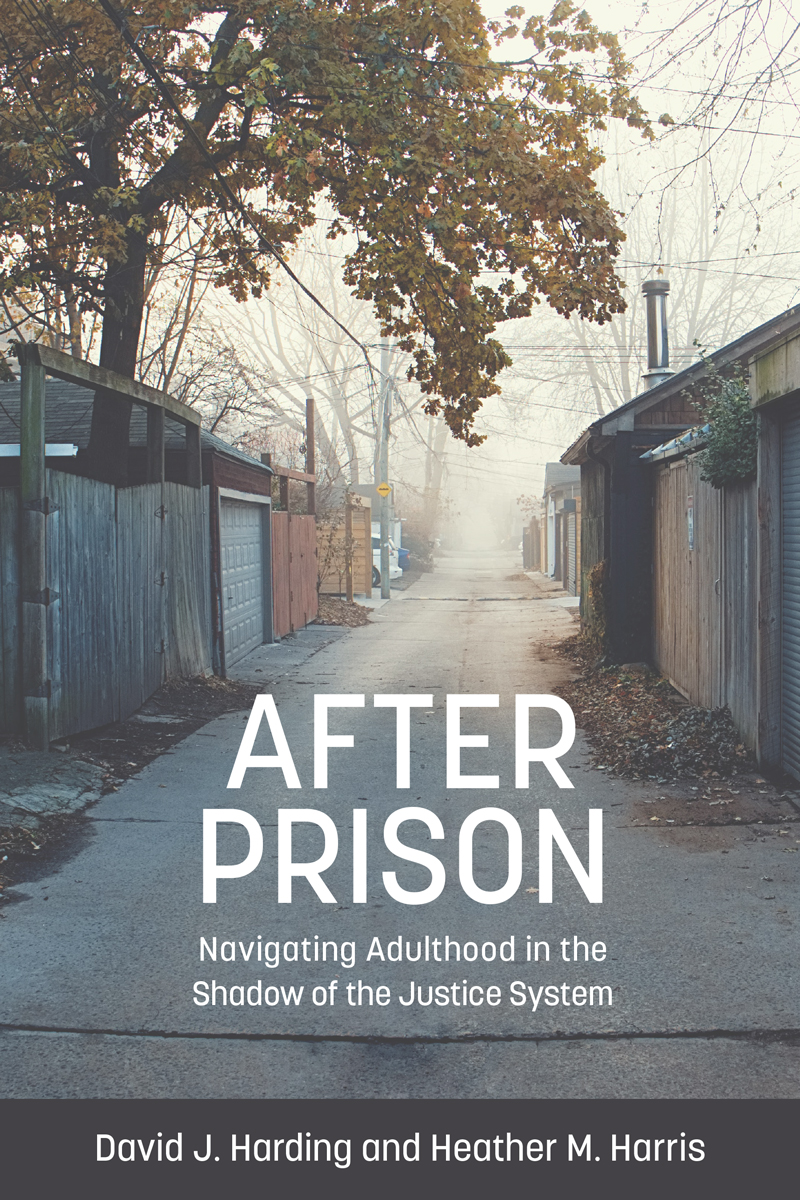 The incarceration rate in the United States is the highest of any developed nation, with a prison population of approximately 2.3 million in 2016. Over 700,000 prisoners are released each year, and most face significant educational, economic, and social disadvantages. In After Prison, sociologist David Harding and criminologist Heather Harris provide a comprehensive account of young men's experiences of reentry and reintegration in the era of mass incarceration. They focus on the unique challenges faced by 1,300 black and white youth aged 18 to 25 who were released from Michigan prisons in 2003, investigating the lives of those who achieved some measure of success after leaving prison as well as those who struggled with the challenges of creating new lives for themselves.
The transition to young adulthood typically includes school completion, full-time employment, leaving the childhood home, marriage, and childbearing, events that are disrupted by incarceration. While one quarter of the young men who participated in the study successfully transitioned into adulthood—achieving employment and residential independence and avoiding arrest and incarceration—the same number of young men remained deeply involved with the criminal justice system, spending on average four out of the seven years after their initial release re-incarcerated. Not surprisingly, whites are more likely to experience success after prison. The authors attribute this racial disparity to the increased stigma of criminal records for blacks, racial discrimination, and differing levels of social network support that connect whites to higher quality jobs. Black men earn less than white men, are more concentrated in industries characterized by low wages and job insecurity, and are less likely to remain employed once they have a job.
The authors demonstrate that families, social networks, neighborhoods, and labor market, educational, and criminal justice institutions can have a profound impact on young people's lives. Their research indicates that residential stability is key to the transition to adulthood. Harding and Harris make the case for helping families, municipalities, and non-profit organizations provide formerly incarcerated young people access to long-term supportive housing and public housing. A remarkably large number of men in this study eventually enrolled in college, reflecting the growing recognition of college as a gateway to living wage work. But the young men in the study spent only brief spells in college, and the majority failed to earn degrees. They were most likely to enroll in community colleges, trade schools, and for-profit institutions, suggesting that interventions focused on these kinds of schools are more likely to be effective. The authors suggest that, in addition to helping students find employment, educational institutions can aid reentry efforts for the formerly incarcerated by providing supports like childcare and paid apprenticeships.
After Prison offers a set of targeted policy interventions to improve these young people's chances: lifting restrictions on federal financial aid for education, encouraging criminal record sealing and expungement, and reducing the use of incarceration in response to technical parole violations. This book will be an important contribution to the fields of scholarly work on the criminal justice system and disconnected youth.