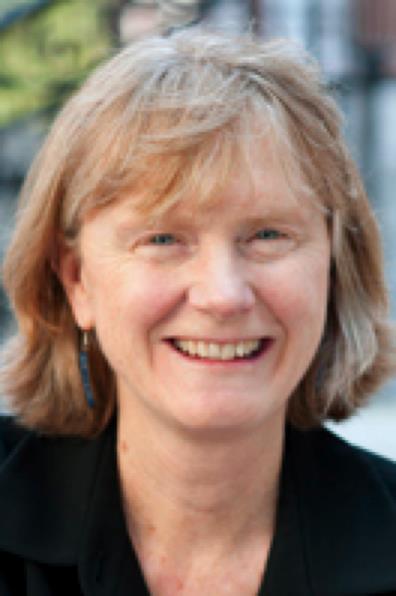 Margaret M Weir
Professor
Avice M. Saint Chair in Public Policy
Research Interests
Political sociology, welfare state, and urban politics
Margaret Weir is Professor of Sociology and Political Science and Avice M. Saint Chair in Public Policy at the University of California, Berkeley. She teaches courses on urban society and politics, political sociology, and the welfare state. Before coming to Berkeley in 1997, she was a Senior Fellow in Governmental Studies at the Brookings Institution (1992-1997) and was a member of the faculty of the Government Department at Harvard University (1985-1992).
Weir has written widely on social policy and politics in the United States. She is the author of several books including, Schooling for All: Race, Class and the Decline of the Democratic Ideal (coauthored with Ira Katznelson, Basic Books 1985); and Politics and Jobs: The Boundaries of Employment Policy in the United States (Princeton University Press, 1992). She has also edited several books that deal with development of social policy in the U.S. including, The Politics of Social Policy in the United States (with Ann Shola Orloff and Theda Skocpol, Princeton University Press 1988) and The Social Divide (Brookings and Russell Sage, 1998), which examines social policymaking during the Clinton administration.
She is currently working on a study of metropolitan inequalities in the United States, with a particular focus on poverty and the politics of coalition-building in metropolitan America during the past two decades.  
Her work examining the politics of includes "Coalitions for Regionalism," in Reflections on Regionalism ed. Bruce Katz (Brookings Institution Press, 2000) and "Power, Money, and Politics in Community Development," in Urban Problems in Community Development ed. Ronald R. Ferguson and William T. Dickens, (eds.) (Brookings Institution Press 1999); and "Planning, Environmentalism and Urban Poverty," in The American Planning Tradition ed. Robert Fishman (Woodrow Wilson Center Press, 2000). The book examines how changes in federalism affect coalition-building at the regional level, as old channels of channels of influence and resources decline. Through comparison of the Chicago and Los Angeles metropolitan areas, the book will examine the shifting alliances between low-income communities, environmentalists, political leaders in cities and suburbs, and regional business leaders as they seek to shape metropolitan America to their own vision.
She has also worked on the politics of health policy in the states. Articles from this project examine the role of organized labor in promoting health access and of insurance companies in constructing narrow risk pools
Weir was chair of the MacArthur Foundation Network on Building Resilient Regions from 2006-2014. 
Representative Publications
Book
 
2014 We the People W.W. Norton. (with Benjamin Ginsberg, Theodore Lowi, and Caroline Tolbert) (tenth edition)
1998 The Social Divide: Party Politics and the Future of Activist Government Brookings Institution and Russell Sage Press. (Editor)
1992 Politics and Jobs: The Boundaries of Employment Policy in the United States Princeton University Press
1988 The Politics of Social Policy in the United States Princeton University Press (co-edited with Ann Shola Orloff and Theda Skocpol)
1985 Schooling for All: Class, Race and the Decline of the Democratic Ideal (New York: Basic Books (with Ira Katznelson)

 
Published Articles and Chapters
2015  "The Power of Coalitions: Advancing the Public in California's Public-Private Welfare State," Politics and Society March 2015 43: 3-32. (with Charles Eaton) -- A summary of this paper is avalable at the Scholars Strategy Network
2014 "Building Safety Nets in an Era of Fiscal Constraint," in Metropolitan Resilience in a Time of Economic Turmoil," Michael Pagano, (ed.)  (University of Illinois Press, 2014), pp. 21-50.
2012 "Building Regional Institutions," Oxford Handbook of Urban Politics  Karen Mossberger, Peter John and Susan Clarke (eds.) (Oxford University Press, 2012) (with Christian Lefèvre), pp.624-641
2012 "Building a Resilient Social Safety Net," in Building Resilient Regions; vol. 4 of Urban and Regional Policy and its Effects (Washington D.C.: Brookings Institution Press, 2012) (with Sarah Reckhow), pp.275-323 -- related Brookings policy brief "Building a Stronger regional Safety Net: Philanthropy's Role"
2011 "Justice for the Poor in the New Metropolis," in Justice and the American Metropolis (ed.) Clarissa Hayward and Todd Swanstrom (eds.) (University of Minnesota Press, 2011), pp.237-256.
2006. "When Does Politics Create Policy? The Organizational Politics of Change," in Rethinking Political Institutions: The Art of the State ed. Ian Shapiro, Stephen Skowronek, and Daniel Galvin, New York University Press, pp. 171-186
2005. "States, Race, and the Decline of New Deal Liberalism," Studies in American Political Development Vol. 19, no.2 (October): 157-72
2005 "The Calculus of Coalitions: Cities, Suburbs, and the Metropolitan Agenda," Urban Affairs Review 40, no.6 (July): 730-760. (with Harold Wolman and Todd Swanstrom)
2002 "Income Polarization and California's Social Contract," The State of California Labor ed. Ruth Milkman, (University of California Press, 2002), pp.97-131
2002 "The American Middle Class and the Politics of Education,"in Social Contracts Under Stress ed. Olivier Zunz, Leonard Schoppa, and Nobuhiro Hiwatari (Russell Sage Foundation, 2002), pp. 178-203
2001 "The Political Collapse of Bill Clinton's Third Way," in New Labour and the Future of Progressive Politics edited by Stuart White and Susan Giaimo, Macmillan
 
2000 "Coalition-building for Regionalism," in Reflections on Regionalism Bruce J. Katz, (ed.) (Brookings Institution Press), pp.127-53
2000 "Planning, Environmentalism, and Urban Poverty: The Political Failure of National Land Use Planning Legislation, 1970-1975" in The American Planning Tradition: Culture and Policy Robert Fishman (ed.) (Washington D.C.: Woodrow Wilson Center Press, pp.193-215
1999 "Politics, Money, and Power in Community Development," in Urban Problems and Community Development Ronald F. Ferguson and William T. Dickens (eds.) Brookings Institution Press, pp.139-92
1997 "Reconnecting People and Politics," The New Majority edited by Stanley Greenberg and Theda Skocpol Yale University Press (with Marshall Ganz)
1995. "The Politics of Urban Racial Isolation in Europe and America," in Classifying By Race Paul E. Peterson (ed.) Princeton University Press