-
Blumer Room - 402 Barrows Hall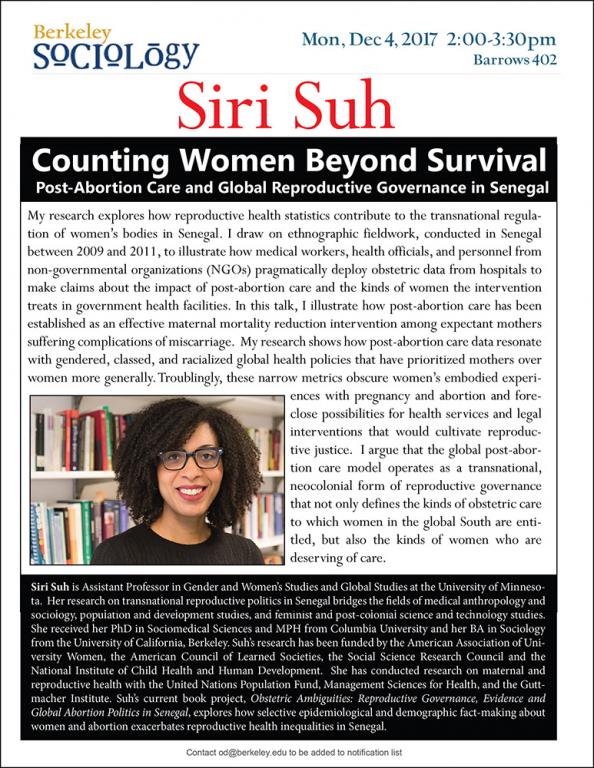 Counting Women Beyond Survival:  Post-Abortion Care and Global Reproductive Governance in Senegal.
My research explores how reproductive health statistics contribute to the transnational regulation of women's bodies in Senegal. I draw on ethnographic fieldwork, conducted in Senegal between 2009 and 2011, to illustrate how medical workers, health officials, and personnel from non-governmental organizations (NGOs) pragmatically deploy obstetric data from hospitals to make claims about the impact of post-abortion care and the kinds of women the intervention treats in government health facilities. In this talk, I illustrate how post-abortion care has been established as an effective maternal mortality reduction intervention among expectant mothers suffering complications of miscarriage.  My research shows how post-abortion care data resonate with gendered, classed, and racialized global health policies that have prioritized mothers over women more generally. Troublingly, these narrow metrics obscure women's embodied experiences with pregnancy and abortion and foreclose possibilities for health services and legal interventions that would cultivate reproductive justice.  I argue that the global post-abortion care model operates as a transnational, neocolonial form of reproductive governance that not only defines the kinds of obstetric care to which women in the global South are entitled, but also the kinds of women who are deserving of care. 
Siri Suh is Assistant Professor in Gender and Women's Studies and Global Studies at the University of Minnesota.  Her research on transnational reproductive politics in Senegal bridges the fields of medical anthropology and sociology, population and development studies, and feminist and post-colonial science and technology studies. She received her PhD in Sociomedical Sciences and MPH from Columbia University and her BA in Sociology from the University of California, Berkeley. Suh's research has been funded by the American Association of University Women, the American Council of Learned Societies, the Social Science Research Council and the National Institute of Child Health and Human Development.  She has conducted research on maternal and reproductive health with the United Nations Population Fund, Management Sciences for Health, and the Guttmacher Institute. Suh's current book project, Obstetric Ambiguities: Reproductive Governance, Evidence and Global Abortion Politics in Senegal, explores how selective epidemiological and demographic fact-making about women and abortion exacerbates reproductive health inequalities in Senegal.