Office
Social Sciences Building 488
Research Interests
Political sociology; Global and transnational sociology; Social theory; Religion; Economic sociology and development; Social movements; Islam and the Middle East; Comparative and historical sociology; Ethnography
Cihan Tuğal studies three interlocking dynamics: 1) capitalism's generation and destruction of communities, livelihoods, and places; 2) the implosion of representative democracy; 3) the crisis of liberal ethics. Tuğal's primary ongoing research project focuses on the far right, neoliberalization, state capitalism, and populist performativity in Eastern Europe, Latin America, and West to Southeast Asia. (See his Journal of Right-Wing Studies, Contemporary Politics, Critical Sociology, and Annual Review of Sociology articles for initial outputs from this project). He has also initiated a team project to study the ecological crisis of capitalism, with special emphasis on the role of labor and community struggles in developing sustainable energy. 
Based on fieldwork in Egypt and Turkey as well as historical analysis, Tuğal's book Caring for the Poor (2017, Routledge) examines the emergence, globalization, and decline of liberal welfare ethics. The book builds on a Maussian analysis of the gift, as well as Polanyian, Marxian, Bourdieusian, and Foucaultian theorizations of charity. Tuğal has published offshoots of his larger project on welfare ethics in the American Journal of Sociology, Qualitative Sociology, and Rethinking Marxism. His ongoing work explores ethical, religious, and spiritual alternatives to the rationalization and individualization of care and well-being.
Three articles on the global uprisings of 2009-2013 provide a snapshot of Tuğal's work on capitalism and politics (see below: "Elusive Revolt", "Decline of the Monopoly of Legitimate Violence," and "Resistance Everywhere"). Marketization, uneven growth, increasing ineffectiveness of American hegemony, and decimation of middle classes have undermined the (liberal-conservative) mainstream and incited revolt. As Tuğal's collaborative work with De Leon and Desai emphasizes, political creativity (or lack thereof) thoroughly shapes what kind of a route societies take in response to such turbulence. For now, the American far right has scored (important but) restricted victories as a result of this global chaos (see below: "The Counter-Revolution's Long March," as well as the shorter pieces in the Marxist Sociology Blog and New Politics). His earlier books unpacked similar processes in Turkey, Egypt, Iran, and Tunisia (Passive Revolution, Stanford University Press; and The Fall of the Turkish Model, Verso).
Tuğal has also written extensively in Turkish. His works in English have been translated to German, Spanish, Portuguese, French, Chinese, Swedish, Turkish, Romanian, and Ukrainian.
Representative Publications
Books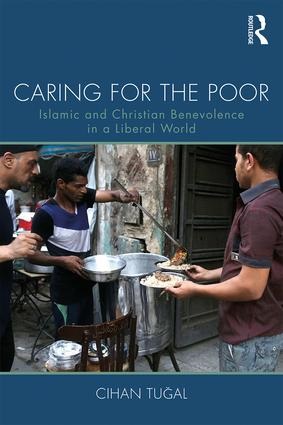 2017      Caring for the Poor: Islamic and Christian Benevolence in a Liberal World
(Translated to German and Turkish)
Edited Volumes
Journal Articles 
2023   "Three Routes to Autocratic Rule: Market Reforms, Politics, and Masculinist Performance in the Making of Right-Wing Regimes." Journal of Right-Wing Studies 1/1: 37-71.

2022   "The strengths and limits of neoliberal populism: the statism and mass organisation of contemporary rightwing regimes." Contemporary Politics. https://www.tandfonline.com/doi/full/10.1080/13569775.2022.2064645

2023   "Politicized Megaprojects and Public Sector Interventions: Mass Consent Under Neoliberal Statism." Critical Sociology 49/3: 457-473. https://doi.org/10.1177/08969205221086284

2021    "Populism Studies: The Case for Theoretical and Comparative Reconstruction." Annual Review of Sociology 47: 327-347. doi.org/10.1146/annurev-soc-092820-094345

2021    "Turkey at the Crossroads?" New Left Review 127: 25-54.

2021    "Urban Symbolic Violence Re-Made: Spatial Struggles in Istanbul." International Journal of Urban and Regional Research 45/1: 154-163. DOI: 10.1111/1468-2427.12853

2021 "The spiritual transformation of giving: generosity's constitution of the self and community in post-religious society" Social Compass 68/1: 98-114.

2020  "The Counter-Revolution's Long March: The American Right's Shift from Primitive to Advanced Leninism." Critical Sociology 46/3: 343-358.

2017 "The Uneven Neoliberalization of Good Works: Islamic Charitable Fields and Their Impact on Diffusion." American Journal of Sociology 123/2: 426-464.

2016    "Faiths with a Heart and Heartless Religions: Devout Alternatives to the Merciless Rationalization of Charity." Rethinking Marxism 28/3-4: 418-437.

2015    "Elusive revolt: The contradictory rise of middle-class politics." Thesis Eleven 130/1: 74-95.

2013   "Resistance Everywhere: The Gezi Revolt in Global Perspective."New Perspectives on Turkey 49: 157-172.

2013    "Contesting Benevolence: Market Orientations among Muslim Aid Providers in Egypt," Qualitative Sociology 36/2: 141-159.

2012    "Democratic Janissaries? Turkey's Role in the Arab Spring," New Left Review 76: 5-24. (Translated to Spanish, Swedish, Portuguese and Turkish)

2012 "Serbest Meslek Sahibi": Neoliberal Subjectivity among Istanbul's Popular Sectors, New Perspectives on Turkey 46: 65-93.

2012 "Fight or Acquiesce? Religion and Political Process in Turkey's and Egypt's Neoliberalizations" Development and Change 43/1: 23–51.

2009 "The Urban Dynamism of Islamic Hegemony: Absorbing Squatter Creativity in Istanbul," Comparative Studies of South Asia, Africa and the Middle East, 29/3: 423-437.
 
2009 "Political Articulation: Parties and the Constitution of Cleavages in the United States, India, and Turkey" (with De Leon and Desai) Sociological Theory, 27/3: 193-219
 
2009 "Transforming everyday life: Islamism and social movement theory," Theory and Society 38/5: 423-458.
 
2008 "The Greening of Istanbul", New Left Review 51: 64-80.
 
2007 "NATO's Islamists: Hegemony and Americanization in Turkey", New Left Review 44: 5-34.
 
2006 "The Appeal of Islamic Politics: Ritual and Dialogue in a Poor District of Turkey", Sociological Quarterly 47/2: 245-273.
 
2002 "Islamism in Turkey: Beyond Instrument and Meaning," Economy and Society 31/1: 85-111.
Book Chapters
2017. "The Decline of the Monopoly of Legitimate Violence and the Return of Non-State Warriors." Pp. 77–92 in The Transformation of Citizenship, Volume 3: Struggle, Resistance and Violence, edited by Juergen Mackert and Bryan S. Turner. London and New York: Routledge.
 
2015 (with de Leon and Desai) "Political Articulation: The Structured Creativity of Parties." Pp. 1-35 in Building Blocs: How Parties Organize Society, edited by Cedric de Leon, Manali Desai, and Cihan Tugal. Stanford: Stanford University Press
 
2015    "Religious Politics, Hegemony, and the Market Economy: Parties in the Making of Turkey's Liberal-Conservative Bloc and Egypt's Diffuse Islamization," in Building Blocs: How Parties Organize Society, Stanford University Press.
 
2014    "Gülenism: The Middle Way or Official Ideology?" pp. 50-64 in Umut Özkırımlı (ed.) The Making of a Protest Movement in Turkey: #occupygezi, Palgrave.
 
2013    "Conservatism, victorious: Islam and the retrenchment of the secular Turkish state," pp. 109-133 in Asef Bayat (ed.) Post-Islamism at Large, Oxford University Press.
 
2011    "The Islamic Making of a Capitalist Habitus: the Turkish Sub-Proletariat's Turn to the Market," Economic Sociology of Work 22: 85-11.
 
2007 "Memories of Violence, Memoirs of Nation: 1915 and the Construction of Armenian Identity," in Esra Özyürek (ed.) Politics of Public Memory, Syracuse University Press.
Review Articles
2017    "An unmoving wall or a shifting one? The American right's deep emotional politics and its emaciated counterpart." The British Journal of Sociology 68/1: 137–142.

2016. "Neoliberal populism as a contradictory articulation." European Journal of Sociology 57/3: 466-470.

2012 "Intermittent revolution: the road to a hybrid socialism," Socio-Economic Review 10/2: 382-386

2005 "State and Society in the Study of Islam: Discontents of a Dichotomy," New Perspectives on Turkey 31: 121-134.
                                                                                    Selected Essays and Interviews
2023    "From the Gezi Uprising to the 2023 Earthquake: Charting Turkey's Ecological Destruction and Reconstruction," Jadaliyya, April 7
2023    "Erdoğan's Resilience," Sidecar, May 31
2023    "Whatever Happens Next, Turkey is in Trouble," New York Times, May 11
2022    "Ottoman Revival?" Sidecar, October 14
2022    "Turkey Shows What NATO Really is," New York Times, May 26
2022    "Putin's Invasion: Imperialism after the epoch of Lenin and Wilson," LeftEast, March 6, 2022
2021    "To achieve real political change, populism is necessary," OpenDemocracy, October 15, 2021 (cross-posted in System Change Not Climate Change)
2021    "One World, in Flames, From California to Turkey," Jadaliyya, September 10, 2021 (cross-posted in System Change Not Climate Change)
2021    "Can a Disoriented Storming of the Center Lead to Organizational Maturity?" New Politics (Print issue) Vol. XVIII No. 3, Whole Number 71
1/13/2021         "Fascism, Resistance, and the State: A Critique of Spectre's Antifascist Strategy," Spectre
1/11/2021        "The Invasion of Capitol Hill: Decaying Institutions, Rightwing Insurrection, and the Need for a Mass Movement," New Politics
10/27/2020      "Leninism without the working class? The missing subject in Malm's ecological revolution," www.opendemocracy.net (cross-posted in System Change Not Climate Change)
7/8/2020 "The Radical Right: Thriving and in Disarray," Marxist Sociology Blog
9/25/2018        "Democratic Socialism beyond the New Deal," www.opendemocracy.net
8/6/2016          "Turkish Totalitarianism: A Trendsetter rather than a Cultural Curiosity?" Global Dialogue (Newsletter for the International Sociological Association) Volume 6/Issue 3
7/23/2016 "Turkey's Disaster," www.jacobinmag.com
7/18/2016        "Turkey coup aftermath: between neo-fascism and Bonapartism," www.opendemocracy.net
2/17/2016   "New Texts Out Now: Building Blocs: How Parties Organize Society," www.jadaliyya.com. (A condensed presentation of our argument and a discussion of its practical, political significance.)
2/17/2016 "In Turkey, the regime slides from soft to hard totalitarianism," www.opendemocracy.net
04/04/2015 "Those Who Want to Build, Those Who Want to Fight: The World Social Forum with a North African Twist," www.jadaliyya.com
07/10/2013 "The End of the "Leaderless" Revolution: A Global Fallacy and the Military Intervention in Egypt," www.counterpunch.org
Published also in Berkeley Journal of Sociology 58: 83-87 (annual print issue)
06/11/2013 "Turkey: a Second 1848 … or 1905? The Cultural and Organizational Legacies From the Global Wave of 2011," www.counterpunch.org (Translated to Turkish)
06/04/2013 "Occupy Gezi: The Limits of Turkey's Neoliberal Success," www.jadaliyya.com (Translated to Turkish)
Published also in JadMag 1.4 Special print issue, "Resistance Everywhere": The Gezi Protests and Dissident Visions of Turkey, Edited by Anthony Alessandrini, Nazan Üstündağ, and Emrah Yildiz